In light of the concerns that have come from the coronavirus (COVID-19) outbreak, The Counseling Center for Growth & Recovery offers remote video counseling or teletherapy for those who may be feeling ill or practicing Social Distancing. We've put the public gathering of our Anxiety & Depression Support Group on hiatus for now as the pandemic situation unfolds, and will let you know if and when the group returns to meeting up together. To schedule your first online counseling session, please call 561-404-1482 and we will be ready to assist you.
Anxiety Busters:
A support group for people experiencing anxiety or depression.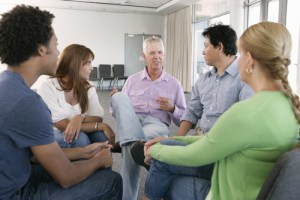 Do anxiety, panic, sadness, and/or fear control your life? Do you find yourself feeling physically, mentally and emotionally drained by worrisome and stressful thoughts, feelings and sensations that keep you from pursuing relationships, work or career goals, or other life activities? Do you find yourself on edge, and engaging in negative self-appraisals or evaluations? This group is for those persons who want to break free from the shackles of anxiety and fear to live a more productive, meaningful and enjoyable life.
Anxiety and Depression Support Group in Delray Beach, Florida
Facilitated by a clinical social worker with over 25 years of mental health experience, and supported by the group members, you will explore your fears and anxieties in a safe, caring and nurturing environment while having the opportunity to practice new skills and behaviors to support the life you've been dreaming about. Along the way, we will have fun and create new connections and friendships.
Anxiety & Depression Group Details:
This support group meets on the first Tuesday of each month from 7:00pm to 8:00pm
Facilitated by a clinical social worker/psychotherapist
Open to all persons suffering with anxiety, anxiety disorders
Fee: $40.00 at time of each meeting, payable by cash or debit/credit card
Please RSVP by phone: 561-404-1482 or email: ccgr.southflorida@gmail.com
Our anxiety and depression support group is offered on a complimentary basis (free of charge) to clients receiving individual therapy at the Counseling Center for Growth and Recovery.